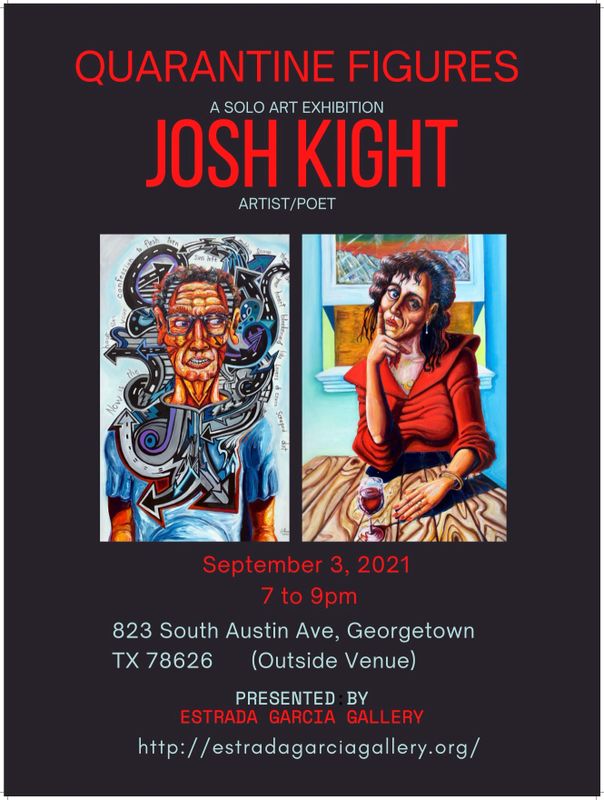 Video of Josh Kight 
Click Josh Kight Video Solo Exhibition September 3, 2021 thru October 31, 2021
Click here for Full Exhibition of Josh Kight 

About the Artist: Josh Kight 

x
Artist's Statement
I have been exhibiting art and writing poetry for some thirty five years now and as in my life, I feel that I have lived several lives in one career. I made large very extroverted canvases from 1982 until 1997. I switched to mixed media at that point because of a pointed need to change, to look and feel differently about my work. 
The paintings I made from 1998 until 2005 focused on variations of the 'head'. Each mixed media painting had a poem to go with it that had been graphically designed on a computer to match the painting it had been written for. 
My work has taken a more abstract turn as a result of a book of Leonardo's drawings of the human anatomy given to me by my wife. I have drawn from various organs and designed with them. Even the most creative abstract painter could not have invented this multiplicity of shapes. Poems have been written that go with these Organ paintings with the idea that each organ has its own unique contribution to our overall consciousness as Human beings. For some this might seem a ghoulish preoccupation but what I have found in these paintings is an incredible variety form and beauty that is anything but morose. The paintings are the most mysterious of my career and frequently kind of funny. 
Another result of the study of Da Vinci's anatomical drawings are the recent Pen and Inks. They are more figurative than the paintings and the poetry is imbedded in the drawings. From my earliest years I have always been interested in comics. There is an echo of old revolutionary war and 19th century comics in these loaded pen compositions. The result is a dense layered image meant to be contemplated over a long series of years, disgorging its pleasures slowly over time. 
In 2014 The Great Plains series started inspired by a blood moon and a trip to the Hill Country. The mixture of ancient animals of plains who are still all around us with modern life is put together into a poetic mix. 
2020 brought "the quarantine figures". Paintings I made in reaction to the quarantine Many of them have halos, elaborate and by turns aggressive, beautiful, gentle, spiritual and zany like many of our lives were locked up in our houses.
In addition to the visuals, there is a performance element in the reading of the poems. I usually like to do that about ½ way through the opening. 
The paintings, drawings and poems are all tributaries of the same river. They can be shown singularly or in groups. 
Sincerely,
Joshua Kight